Hello people, as I said I just began yesterday a game with my team El Recre or El Decano, as you prefer. The game is with 4.1.5 db.
First of all tell you that is in the Second Division of Spain, and we only could have two non Eu member players.  First of all I´m gonna show you the economy, that is good, but not much better as we´ll see later.
The reason I say that the economy is good, but not much better is the next, we have a squad with player that don´t have the level of the Second Division, I show you two screen of the team, one order by position, the other by the prize.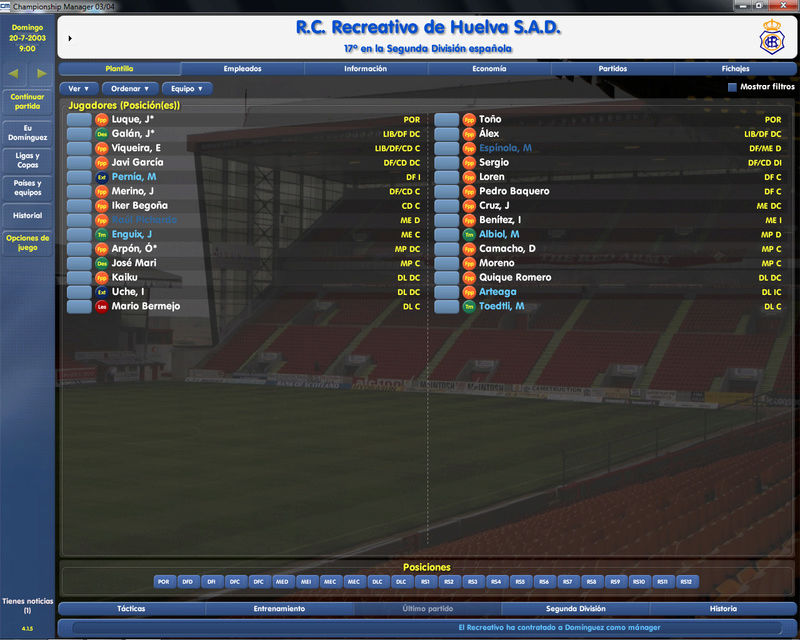 I gonna take some decisions:
1) Pernía is good, but not what I want, so I´m gonna finish the loan and Uche is gonna be fired, the non EU players will be others.
2) All the players aree transfer listed and offer to other clubs. They´re not enough good and we need money.
3) I want cheaps player that play well right now.
4) In other way I gonna buy somple players that are good, but just really thinking for the future.
5) My tactic I think that it´ll be a 4-2-2-2.
Players I like, I need help
, will be
GK Schmeichel
GK??? If I don´t sell one of my actual GK.
DL De La Cuesta/Bertelsen
DC Artur Faranczuk/"Álvaro" López Durán/
DC Jean Dika/Christian Karlsen /Carl Medjani
DR Joao Pereira / freddy that´s free
ML Bertelsen/Barbosa/Daniel Braathen
MC Guarín/Song/Maldonado
MC Simon Francis/"Vicente" Fuentes/Giampiero Zecchin
MR "Elías" Molina/ Paulo "Clemente" Raimundo/Zé Mário/"Óliver" Abad
Stricker 1 Cerci/Lorenzo "Loren" del Pino/Santi Domínguez
Stricker 2  Þórarinn Brynjar Kristjánsson/Andrés Curiel/Julián "Juli" Cerdá
As you could see I need options specially in defenders Lefts and Rights anf Goalkeepers, and all the rest of the positions
, it´s just a first desire, and one think is what you want and other different is what you finally got. I´ll wait your comments, and I will tell you my news.
Thanks a lot.

johnkeatss




Mensajes

: 22


Fecha de inscripción

: 19/03/2013



Siento el tocho en inglés perolo copié del foro inglés y no me he dado cuenta hasta ahora, creo que se me entiende, en caso que no, sin problemas traduzco o aclaro.

Gracias

johnkeatss




Mensajes

: 22


Fecha de inscripción

: 19/03/2013



---
Permisos de este foro:
No puedes
responder a temas en este foro.